Twitter lists are nothing new, but yet they are often over looked by many Twitter users. However, management of your Twitter lists can be very cumbersome…especially if you have a HUGE amount of followers to sift through. And you don't want too waste too much time on social media. Don't sweat it, I will show you how you can easily take control of your lists and what is possible with segmented Twitter lists in a few simple steps.
Getting Your Twitter Data
To easily manage this process, I will be using Microsoft Excel to to manipulate the data, but first we need to get the data into Excel. There are many tools that allow you to export your your data from Twitter. Some paid, some free. When possible I like to use free options, however, here are several methods to get your Twitter data.
While Followerwonk is a paid solution, if you have a MOZ account, it is included as part of your membership. Since I have a MOZ account, I will be using Followerwonk to export my Twitter data. Please note that each export service may not export the same data as another service. For example, the Google Docs spreadsheet does not currently export the location of the user. Depending on what you want to accomplish with your lists, this may need to be something to take into consideration.
When you export your data, be sure to export it in CSV/XLS format and not a PDF. If you use Google Docs, you can simply copy/paste your data into Excel.
Fire Up Excel
Now that you have your data, let's get it into Excel so we can learn more about our followers (or users we are following – depending on what you exported). With your data in Excel, let's turn the data into a table so it is easy for us to filter it based on certain criteria we want to know. To create a table in Excel, simply highlight all the data (including the column headers) and click "CTRL+T". Be sure to select the box that says your data has headers.
Once your table is created, we can start to segment the users anyway we wish.
Segmenting Your Twitter Followers
You will notice in Excel that your column headers now have "drop down" arrows next to them. Clicking on one of these arrows will allow you to sort or add filters to the data. For example, if you wanted to know who had the most followers, you could sort the column with that data from largest to smallest. Or if you wanted to know which users have a URL/website listed in their profile (maybe you are a web design company looking for people who need websites), you could sort the row with that data to see who did or did not list a URL.
While those two examples are high level approaches, let's really put our data to work.
Let's say you want to create a Twitter list of all your followers from Houston, Texas. If you have browsed the location column of your data you will notice that some people will list their location as "Houston, Texas" or "Houston TX" or possibly just "Houston". Here is where column filters in Excel can help you out.
When you click on the column filter arrow, you need to select "Text filters >> Contains". Then on the next screen type in Houston (or whatever city you want to create a list for and then click "ok". Your data will now show any user who meets this criteria.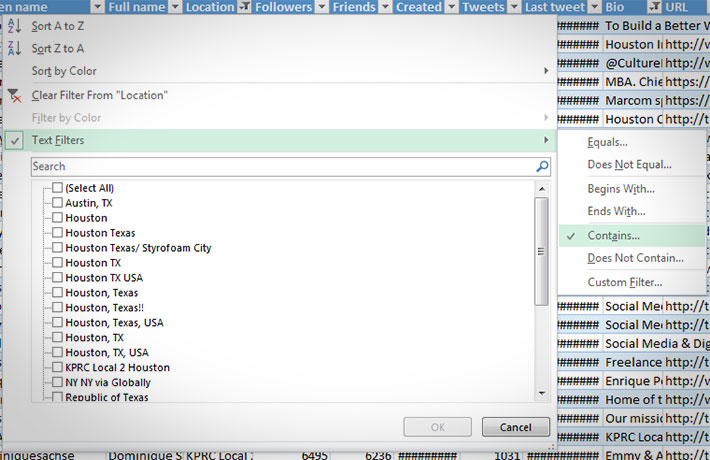 Let's not stop with just the location field. Did you know that many people place their location within their bio field instead of the location field? We would not want to miss out on anyone who may have listed the city in their bio, so let's follow the same process for the "bio" column that we did for the "location" column. Once you have these two filters in place, you should see practically all the users you follow for a particular location.
Why stop at location, when we can also find out which of our followers have a certain interest. For example, let's say I am interested in knowing which of my followers are from Texas, but also have an interest in social media. So let's add one more filter to the "bio" column. Click on the column filter and "Text filters >> Contains". Then select the "and" radio button, click the dropdown and select "contains" and type in "social media" into the input box. Select "ok".

Your Excel data will now show you followers from Texas who are interested in social media. This is one of the many possibilities you can do by filtering your data in Excel. A few more ideas are (depending on which export software you use):
Identify social influencers (social authority) who use a keyword in their bio.  (Users with a social authority of "X" who are interested in "golf")
Locate users actively retweet others who have a high social authority and located in a certain region. (Users who RT and have a social authority of "X" who live in Texas)
Find users who are CMO, CFO, etc. that have a certain range of followers. (CFO's who have between 500-5000 followers)
Know what users work for a certain company in a particular state (Dell employees in Texas)
Pretty cool, but how in the world do I put all these people into a Twitter list?
Surely you don't want to manually visit each Twitter account and manually add them to a list…unless you are into time-wasting repetitive tasks? I didn't think so. Let's look at a free tool that helps us get this done with 97% less work.
But first, we need to save the users we want to add to a list as a text file. To do this, simply highlight all the usernames that remain in your spreadsheet after applying filters and past it into Notepad. Be sure to have one username per line (do not paste the Twitter URL, just the username). Save this as a .txt file.
Easily Create Your Twitter List(s)
The tool of choice to create my Twitter lists is SocialBro, They do have free and paid accounts, but to create your list you can use the free account (I use the Google Chrome app). Once you have created your account, be sure to login to your dashboard.
While their user interface is less than ideal, it is free and allows us to save time creating lists. What you will need to do is in the top navigation look for the "tools" dropdown which is symbolized by a wrench. Then scroll down to where it says "import users". On the following screen, you will need to browse for the .txt file you created in the previous step. Simply follow the steps to import the data. Depending on how large the file is, it may take some time to import into SocialBro.
Once the import is complete, you will see a screen similar to what is below. You will need to click on the "browse" button located in the "all members" section.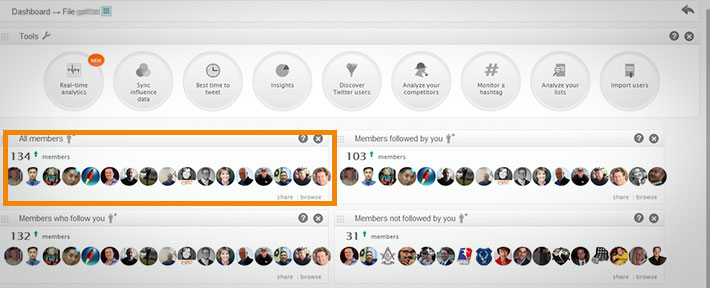 Once you click the "browse" button, a new screen will load showing you 30 users from this imported list. Here is where we do 97% less work than manually going to each of these 30 users and manually adding each one to the list. What you will need to do with you mouse/cursor is go to the bottom right of the screen and then "left click and hold" with your mouse and drag your cursor to the top left of the screen and let go of your left click button. What this will do is select all the users on the screen.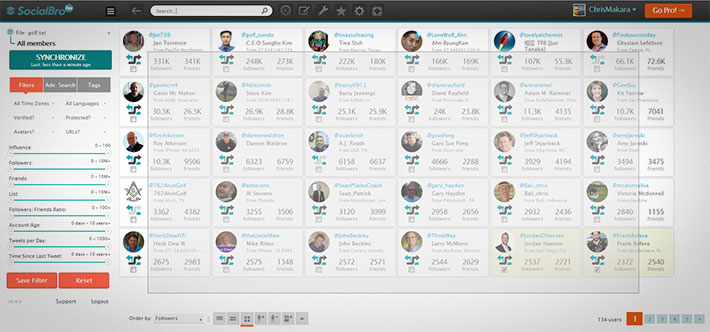 I suspect there is no "bulk select all" due to API restrictions or limitations. Once you get the hang of it, it goes by fairly quickly and still beats doing this individually for each Twitter account. Once you have selected all the users on the page, the next thing we need to do is add them to your list. Across the bottom, you will see seven icons. Look at the second to last icon which is the "add selected users to list" icon. Simply click on this icon.

The following screen will ask you what list you would like to add these users to. You can either choose an existing list or create a new list. Just a heads up – If you choose to create a new list, you might want to login into Twitter and edit the list description as SocialBro will add some text saying the list was created with their software. Once the first 30 users have been added to your list, simply click to page two located in the lower right of the SocialBro dashboard to add the next 30 users following the steps above. Depending on the size of your list, you should be able to build it in a matter of minutes.
Are There Better Ways To Bulk Manage a Twitter List?
I know there are many ways you can probably do this, but this is the method I use to manage mine. What methods, tips or tricks do you use to easily manage your lists? Is it a variety of tools and services, or do you know of a site that does everything you need it to? What are you missing from your Twitter list management? Be sure to sound off in the comments below!