Building links to a website can create the biggest impact of search engine rankings. We all know that not all links carry the same weight or value and therefore need to step outside of the box of only focusing on commonplace over used and significantly abused link building tactics like directory submissions, social bookmarking, article submissions, etc.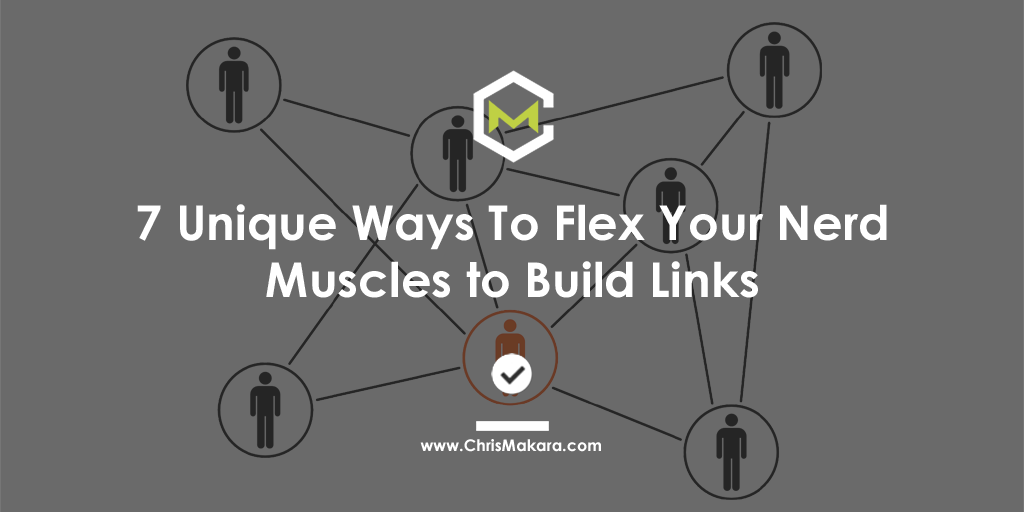 The trick is to find other ways to build links in ways your competition is not. This does not mean you should never do any of the common link building strategies mentioned above, but to compliment your link building strategy with some variation in order to build a truly diverse link building portfolio.
Below I cover 7 ways to flex your nerd muscles to build links and crush the competition (hat tip regarding nerd muscles goes to @portentint's (Ian Lurie) Mozcon 2011 Presentation – I just had to use nerd muscles in a blog post). Each of these methods will take some effort, so if you are into taking the easy way out you might want to reconsider your approach.
1. Badges/Contests
Badges? We don't need no stinkin' badges! Actually, creating a competition where winners/users can display a badge on their site is a great way to generate links back to your site. You could run a competition for the "Top Business Blogs" and have users submit and vote on the winners.
A requirement of the contest could be that to be officially entered into the contest that they have to get nominated by a certain number of people. This would require them to reach out (tweet/facebook/email/etc) and help build awareness of your site and contest. Once nominations have closed off, selecting the contest winners could be based on a voting system. This again, would require outreach and subsequent links to the contest to garner votes.
At the conclusion of the contest, you could award badges for the winners to proudly display on their site. Any winner should be proud of the award and recognition and will more than likely display the badge on their site. Ideally, you should create a badge with an embed code which will ultimately provide a link back to your site.
2. Education Outreach (Hat Tip  – @WilReynolds)
EDU links are a hot commodity and can be difficult to obtain. I am not referring to EDU forum spamming, but legitimate EDU links from education sites that willingly link to you.
A great way to do this is to contact various EDU sites that have courses relating to your industry. Explain to them that you have a particular piece of content or section of your site which may be valuable to current students. Should a particular professor have their own section of an EDU domain, it is a great chance for them to link directly to your content. Not only are you providing relevant information to those who need it, you are getting a high quality back link to your site.
Another option for building EDU links to consider what money you might already be spending trying to get EDU links in a not so ethical way. Let's say you spend about $1000 every 6 months on this tactic that provides less than desirable results. Why not take that $1000 and create a scholarship? Not only will you be helping out a student each semester, you will more than likely get some nice EDU links from the college/university for offering the scholarship. Don't forget that scholarship winners are commonly talked about via press releases and other news outlets providing even more link exposure for your site/company.
Bonus Tip – When appropriate try to work in your topic/keyword phrase into the title of the scholarship. This name will more than likely be used by others when writing about the scholarship and linking to it. So when they link to it, your targeted keyword phrase/anchor text is already in there!
3. Product/Service Video Reviews
Consider offering a product or service for free to a well known industry entity or expert on youtube. Look for users who have a large following which could result in a significant amount of leads. Video testimonials are a powerful source of generating interest and buzz which could lead to multiple revenue opportunities that offset the cost of the free product or service you initially offered for the review.
Should the reviewer really be influential, chances are that they have a blog. Depending on the nature of their blog, they may even decide to do a write up of the review and possibly link back to your site.
An alternative concept could be to create a contest among existing clients to submit their own youtube review where you select a winner or two that win prizes. Tie the videos they submit to a voting system and you could have some nice user generated content that they build links to!
Here is a quick and honest testimonial about a product…while this video is not perfect (there are definitely things I would do different), it gives a great example of a third party review done well. Whether or not the youtube user was given the product for free to use in exchange for a review is unknown.
4. Link Reclamation
Sometimes when a page gets renamed or moved, an external site is still linking to the old original URL. By performing link reclamation, you are reaching out to these site owners who are essentially linking to a nonexistent URL.
While you may have 301 redirects in place to send users trying to access the original URL to the new one, why not ask for the external site owner to update their link to reflect the location of the new one? By doing this, you get to reduce and link juice that may not get fully passed to the new URL in the 301 redirect as well as provides you with the opportunity to evaluate and update the anchor text of the external URL.
Should you have moved domains or even updated your site architecture, chances are there are an abundance of link reclamation opportunities to reach out and notify webmasters that your site or pages have moved and to properly update their links to your site (remember to evaluate the anchor text and change if necessary).
5. Competitor Link Reclamation
Similar to link reclamation, instead of looking for broken links to your own site, this time we are looking for broken links to your competitor's sites. Using a similar process to what you would do to find broken links pointing to your own site, you are simply contacting external website owners that the links they are sending their visitors are no longer working and that you can provide them with an updated link that works. Not only are you creating new contacts, chances are you will be getting highly relevant links on pages with history and domain authority. Can you say no brainer?
6. Testimonials (Hat Tip – SEOMoz)
Vouching for someone else's product or service can go a long way. Most businesses love to show off positive customer feedback, so why not use this to your advantage? Simply contact a site who you would like to leave a testimonial for and let them know how much you like their product and at the end simply say "My name is [YOUR NAME] with www.site.com".
I have used Company X for the past 4 years. Their service and product support is among the best I have ever had! – Chris Makara (http://chrismakara.com)
The site owner will probably be more than ecstatic and want to show off your positive review by placing it on their website. A very simple, but yet effective way to create a link back to your site.
This video by Rand Fishkin of SEOMoz explains this concept as well as a few more link building ideas.
SEOmoz – SEO Software
7. Widgets
Develop an easy to embed widget relating to a product or service offering. This widget could be anything from a calculator of some sorts to a widget that imports current industry news. When developing the widget, be sure to provide credit (a back link) to your site. Please note that when developing a widget and providing a back link, it would be best practice to have the widget relate to the nature/industry of the back link you are using.
Bonus Tip – Create the widget so that it pulls the back link on the fly from an external source where you can control the anchor text and URL of the link to be displayed in the widget on the sites that embed it.

Beat Your Competition
Nobody said beating your competition would be easy. You need to create links above and beyond those of your competitors. Outlined above are many methods in which you can flex your nerd muscles to build a strong and diverse link portfolio for you, your company or your clients.
What other unique methods do you use?

Latest posts by Chris Makara (see all)